Can you imagine life without social media? If you are a Millennial or Gen Z, we are certain that your answer will be a firm no.
Whether keeping in touch with friends, staying up to date with the news, or interacting with brands, we do it all through various social media platforms. This makes it a lucrative medium for brands as well.
Think about it. According to Smart Insight, half of the world's population uses social media! That amounts to 4.48 billion people. So, the discussion of whether your brand needs an online presence is now obsolete. If this point is still up for debate, you are already on the wrong track.
The real discussion is how to efficiently use social media to attract and engage the target audience. Considering the amount of noise online, every business needs a solid social media strategy to stay relevant.
Here, the type of tools and apps you make use of is immensely important. Here are five social media apps you can use to optimize your marketing campaigns.
1- Buffer
Different social media platforms attract maximum traffic at varying times and days. What might be the ideal time to post on Instagram might not be the suitable time for Facebook. For starters, take this infographic into consideration.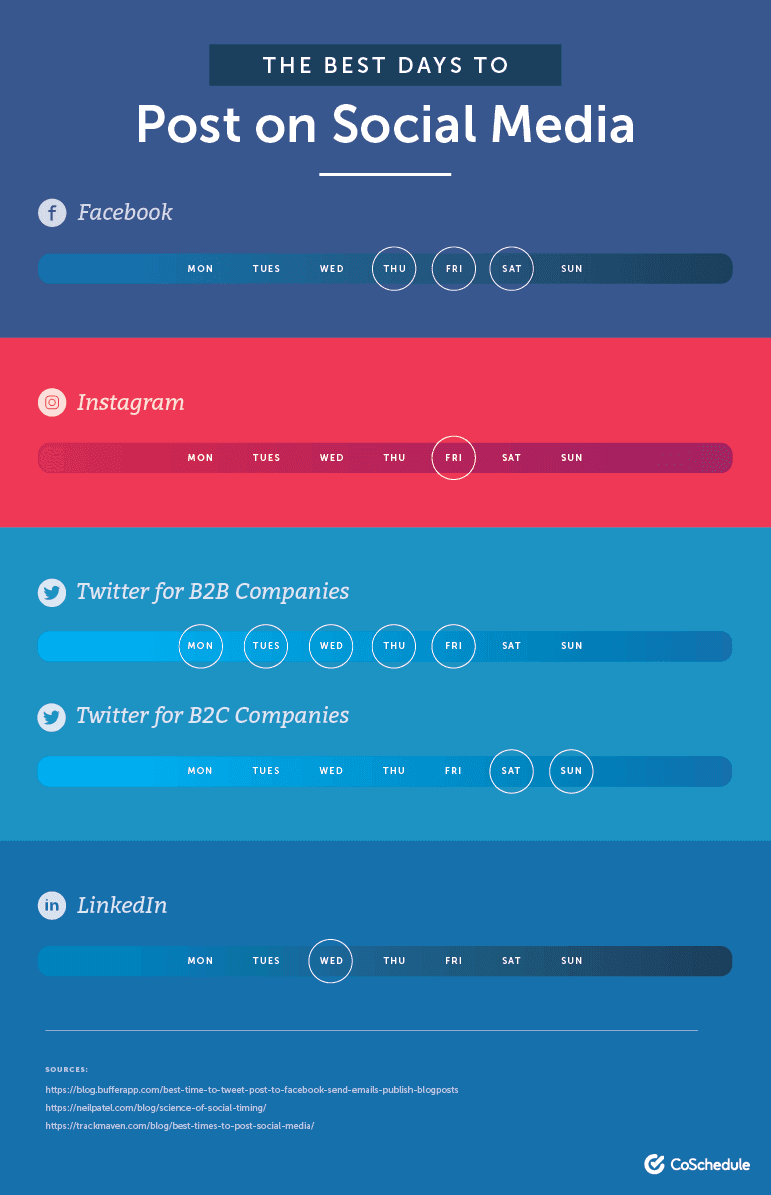 This is why the mere act of posting on different social media platforms can be quite hectic. And if you do it individually on each platform, it takes quite a chunk of your time.
Not to mention that you need to remain alert and equipped with the required resources at the time and days of posting. After all, you wouldn't want to miss out on peak reach time just because your internet betrayed you at the last moment, right?
This is where scheduling tools like Buffer come in very handy. While the app started off solely as a scheduling tool for Twitter, it has expanded its portfolio. The app caters to all major social media channels, including LinkedIn, Facebook, Pinterest, and Instagram.
Here are some of the helpful features within the app:
Ability to share content on the go by using a chrome extension to add content from the web to the Buffer queue.
Any links you share are automatically shortened to look visually appealing when users are scrolling.
Access to analytics to track the performance of content.
Create a posting schedule in advance that allows you to spread out your content throughout the day.
Reply to comments on different platforms through a single platform.
2- Quick
According to statistics gathered by Biteable, social media posts that feature videos tend to get a whopping 48 percent more views than static posts.
Whether you use a mainstream platform like Instagram or disseminate your videos through airG scam free online community, the fact remains that you need quality videos. And while some businesses have dedicated design teams for the task, the same is not valid for startups.
If you are a marketer in a small business, you must master your video-editing and video-making skills to produce consistently good content. While you take your time to develop the technical skills required for using the professional video-editing software, you can use Quik for the time being.
This app allows you to create smooth video transitions, add filters and synchronize music in the background. Hence, it is ideal for creating short snippets and highlight videos. This will help you in maintaining a positive brand image in front of your target audience.
3- Buzzsumo
No marketing campaign can be made without effective research. You need to keep up with what your competitors are doing and what aspects of your current campaigns are working out for you. This is where Buzzsumo can be of use.
This research tool helps in assessing the performance of your content marketing campaigns on different platforms. It also notifies you about who is spreading your content, thereby gauging how viral your campaigns are.
The tool offers the following features:
Find leading content in different social media channels
Keep tabs on competitors by seeing what they are sharing socially. You can do so by entering their domain.
Identify top influencers about a topic that you can collaborate with.
Get notifications based on links, keywords, brand name, and domain.
Conduct keyword research and pick trending topics to write posts on.
4- Repost
Does your brand have multiple accounts divided according to projects or regions? If so, there might be instances where you wish to share content of one of your accounts on another one. This can boost reach, illustrate the connection between the two pages, or maintain a brand image of cohesiveness.
Now, posting again from different accounts can be a hassle. This is especially true for Instagram, where the option of publically sharing content directly from the platform is missing. This issue can be solved through the use of the Repost app.
Via the mass sharing app, you can share any content from your feed. All you have to do is copy the link of the post you wish to share and use the app to repost it. The app will also copy the caption for you, with a disclaimer that it has been reposted. This allows you to maintain brand integrity.
5- Mention
Did you know, according to eMarketer, globally, half of the marketers now turn to social listening as a way to understand the changing consumer preferences? This is especially relevant post-pandemic, where the only form of communication with the audience was via online channels.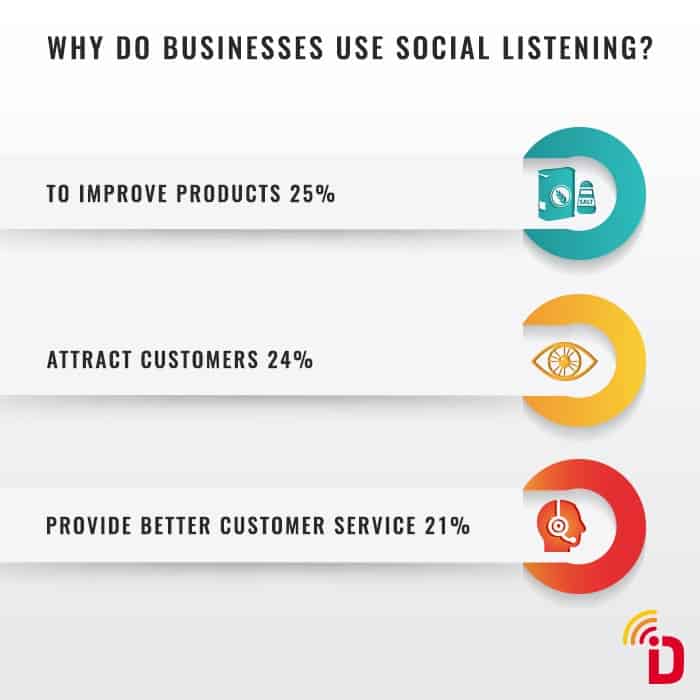 Social listening benefits brands in multiple ways. Firstly, it allows you to keep up with positive and negative comments about the company. You can then highlight the good ones and resolve the bad ones to illustrate the effectiveness of your customer support.
Secondly, it allows you to understand your audience. Keeping up with the right and relevant keywords can gauge their preferences and stance on a given topic.
There are various social listening tools out there. Mention is a tool that functions as an app as well. This makes it ideal for keeping up with your brand, even when you are on the go.
This comprehensive social listening app can be used to monitor the mentions of your products, brand, competitors, or any other keyword you wish to keep track of. Like Buffer, you can use this app to directly respond to social media comments without manually finding the post on the said platform.
Optimize your social media campaign!
The good (and bad) thing about living in modern times is that you are bombarded with choices in all facets of life. This includes social media apps as well. Whether it be management apps or social listening tools, there is a wide variety out there.
We have chosen some of the best tools that you can use. Even among them, you might find some of them more useful than the others. Understand your brand's needs, try the relevant app out and see if it positively impacts your marketing campaign. Are there are other social media apps you believe can help the modern marketer? Do let us all know by commenting below.